Using implants powered by ultrasound to diagnose and treat diseases
Using safe sonic energy and instructions, a team of researchers unveiled a series of tiny devices to diagnose and treat diseases.
How it works
Arbabian and his team, including graduate students Marcus Weber, Jayant Charthad and Ting Chia Chang, have been studying this approach for years, assembling electronic components into a modular design to create something new: a platform for implantable devices Rice is designed to allow engineers to exchange the necessary modules according to the functions they need. Weber said: "Think of our implant platform as a car chassis that we can customize for different applications.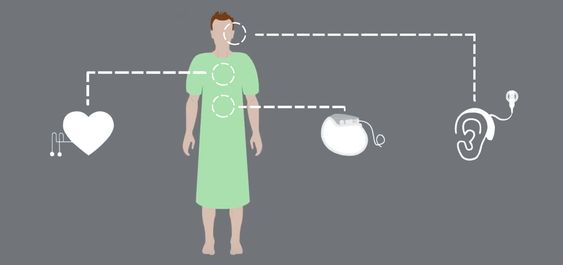 Each implant contains a power receiving module that converts the energy of the ultrasound into usable electricity. This is based on the well-known principle of piezoelectric - the subtle pressure exerted by a sound wave that can compress some of the crystals to produce an electron flow. So far, according to the tests, their implants can be driven beyond the skin by 12 cm, or slightly below 5 inches - enough to target the body of any vital organ. Researchers believe they can implant deeper devices in the future.
To store energy between ultrasonic charges, engineers equipped the implant with capacitors instead of bulky batteries. Nanocapacitors store enough charge to run onboard processors that control each implant and power the ultrasound transmitter of the implant.
The system uses an infinite amount of energy. For example, nanocapacitors store one billionth of an AAA battery energy, and will be periodically recharged through external skin patches.
Low power requirements come from clever engineering. The team is designing a skin patch that serves as a central power source for the control center and the closed-loop system. The skin patch is based on advice from Butrus "Pierre" Khuri-Yakub, a professor of electrical engineering studies, to visualize it as a cellphone tower in a cellphone network, signaling and coordinating the activities of two or more implants in different parts of the body.
One example scenario: One implant senses the state of the organ and guides the other implant through a dermal patch for treatment; for example, electrical stimulation of nerves. Researchers have designed implants that have communication, stimulation, drug delivery and sensing capabilities. They recently demonstrated their
ultrasound
communication solutions and implantable pressure sensors at IEEE ISSCC and VLSI 2017 conferences.
Follow our
facebook page
to get newest information of our company and products.